Still having a hard time looking for gifts for men? Why not amuse him with these Asian gifts, like Chinese game sets and Japanese gifts, that are made for fun and play, he definitely can use them to entertain his family and friends, or let you steal a fun, couple-time together.
Mini Mahjong Set.

Mahjong Set from AsianIdeas.com.
Once strictly-reserved only for the Chinese royals, mah-jong makes for a fine Chinese gift and a Chinese game set that can be enjoyed by up to four (4) people. Mah-jong was said to have originated from the court of the King of Wu and was invented by a lady who, out of boredom, carved images on domino-shaped blocks of ivory and bamboo, and invited three (3) of her maids to play the game with her.
Chinese Wood Puzzles.

Wooden Elephant Puzzle and Dragon Wood Puzzle, AsianIdeas.com;
3D mini wooden model of the Beijing Temple of Heaven, AliExpress.com.
Set your excitement aside as your guy recipient of this Asian gift might have to go through a short critical-thinking saga before you or he gets to finally see or have his own decorative wood puzzle. Each puzzle set comes as a pack of broken pieces of wood and includes a guide as to where the parts connect with each other. Chinese wood puzzles range from simple figure to complex varieties and they all finish to marvelous decorative pieces.

Image: OrientalArtDecor.blogspot.com
Also known as Chi balls, mystery balls, or patience balls, puzzle balls can be considered as one of the prized game sets from China owing to their intricate details and mind-boggling craftsmanship.Puzzle balls consist of different layers of exquisitely-carved puzzle pieces and finish to ball-shaped objects that feature a carving of an auspicious Chinese symbol, like a dragon, crane, or phoenix.

Mini puzzle balls, like these Dragon Phoenix Puzzle Ball(left) and Sandalwood Puzzle Ball (right)
are small enough to serve as a desktop Chinese decor or as a hanging Asian decor for the car.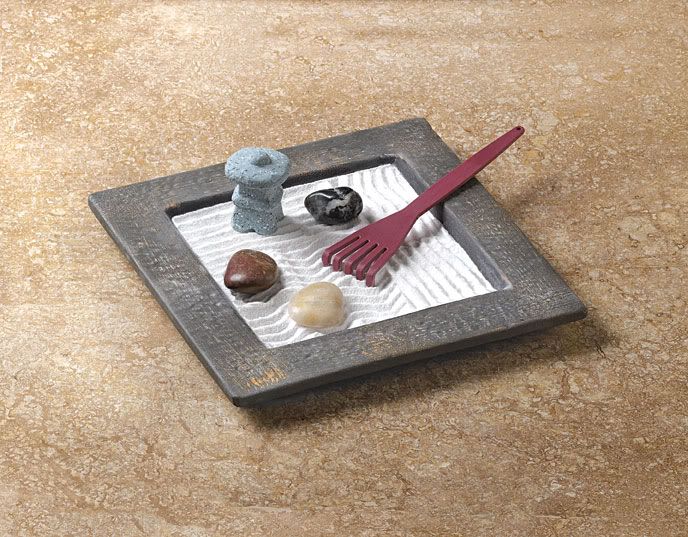 Petite Zen Garden available for only $6.00 at AsianIdeas.com
Perfect for the guy who needs a little playtime in-between his activity-filled lifestyle, tabletop zen gardens basically include a sand-filled wooden box, miniature decorations, and a rake, which he can use to make patterns on the sand. Not to mention, they also make for a fancy tabletop decoration for the home or office.
Japanese Tea Set
.

Set of 4 Cast Iron Tea Set
Men love a little tea time, too, thus a Japanese tea set from you would surely make for a great surprise. Choose one that flaunts a masculine shade, like black or blue, features an auspicious symbol, like the dragonfly, which was once considered as the Japanese samurai's symbol for strength, or a cast iron Japanese tea set, which exude a beautifully Asian-rustic charm.
Ninja Target Board.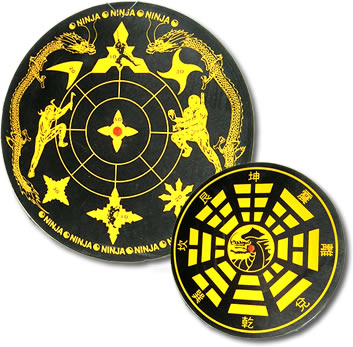 Red Ninja Target board from AsianIdeas.com;
Yellow Shuriken Target Board from TBO-Tech.com
Perfect for the martial arts professional or amateur, or simply just for play, ninja target boards are made to hone every man's skill in throwing a shuriken or ninja star. The shuriken is traditionally made of a sharp blade and while considered as a secret weapon of the ninjas, it is also by far the most popular weapon among the latter. Today, shuriken that is made of soft materials, like foam and rubber, are also available, thus allowing, even kids, to study and enjoy this Japanese martial arts.
Feng Shui Compass.
Ever wished you can feng shui your home on your own? Perhaps doing this with your man and with a little help from his feng shui compass would make it more fun and be a great idea! A feng shui compass helps to find the auspicious and inauspicious areas of indoor and outdoor spaces so you can turn the negative energy, called
sha qi
, into a nourishing
qi
.
Other Asian gifts that your guy may like are the Chinese games, like chess and checkers, and tile games, like dominoes. Playing games that are enjoyable and relaxing, according to the Chinese longevity principles, is the best way to help slow down aging. So make sure to let your man enjoy his favorite game once in a while, and pick these Asian game sets and gifts that both of you can enjoy together.
Need more Asian gift ideas? Checkout AsianIdeas.com to find the largest selection of Asian gifts, Chinese gifts, and Japanese gifts for all occasions and for all ages.
Article Source:
http://EzineArticles.com/?expert=Anne_Therese
http://EzineArticles.com/?Asian-Gifts-for-Men---Perfect-for-Fun-and-Play!&id=7689827